Three Windows
Three Equal Texts
A "Two Equal Texts" image was posted via Twitter in a tweet by Christian Bok.
Lexier
So, I took the text from Micah:
THIS TEXT AND THE ONE BESIDE IT ARE EQUAL. I WROTE THIS ONE FIRST, AND THEN I GAVE IT TO MY FRIEND CHRISTIAN BOK AND ASKED HIM TO GENERATE A NEW TEXT USING EVERY LETTER AND EVERY PUNCTUATION MARK THAT I USED IN MINE. THE OTHER TEXT IS HIS.
(191 characters, no spaces)
Bok
and checked the text by Christian:
MICAH LEXIER REQUESTED IN ADVANCE THAT I REINVENT HIS TEXT. SO I UNKNOTTED IT AND REKNITTED IT INTO THIS VERY FORM, BUT THEN I BEGAN TO THINK THAT HIS MESSAGE HAD ALREADY RESEWN A TOUTED ART OF GENUINE POETRY. HIS EERIE TEXT WAS MINE.
(191 characters, no spaces)
Lacey
I reworked the text:
IMAGINE THAT ONE QUIET NIGHT TRENDY MICAH SET TO TWEET TEASES DEVOTED NUT DRIVEN TO MAKE INSANITY HOUR LAST FOREVER. WHEN BOK TIDIES RIPE TEXT AND MIXES IN EDIT, HE RELEASES THAT NEXT RIDE. I THANK CHRISTIAN FOR UNEARTHING BEAUTY.
-just for the "fun" of it using the 191 characters: 14 A, 2 B, 2 C, 8 D, 29 E, 2 F, 3 G, 10 H, 19 I, 3 K, 2 L, 4 M, 16 N, 8 O, 1 P, 1 Q, 11 R, 10 S, 26 T, 5 U, 3 V, 2 W, 3 X, 3 Y, 3 . and 1 ",".
and modified the image to include my work: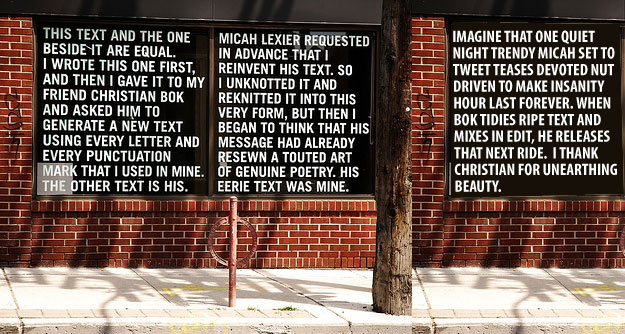 From a photo "Christian Bok and Micah Lexier – Front Windows of Gallery MKG127, 2007 Toronto, Canada", I reworked the image to add another window and slid in my piece.
I challenge my readers to add a window of their own.
Feb. 2011 tweets:
"Three Equal Texts" Two by @christianbok, and lexier plus the one that I added (without their permission). #IMBold http://bit.ly/eoZuON

— Marlene Lacey (@melacey) February 5, 2011
They attempt to add a third text to "Two Equal Texts" (by me and Micah Lexier)—(via @melacey): http://j.mp/hCLatZ

— Christian Bok (@christianbok) February 5, 2011
Please follow and like us:
Related Images: